Hi Jakub, can you briefly introduce yourself to your readers? What describes you the best?
Hi Karel, I am a co-owner of the agency PLACEMENT.cz in Ostrava and an enthusiast of online advertising since the university. I really enjoy the online world, but I'm also interested in the latest technologies. In my personal life, I am the proud father of our wonderful daughter Eliska and it is no secret that we will soon be joined by her brother, who is already on the way. I also really like sports. I have been playing handball since I was a child, but I also enjoy other sports.
Introduce us to your agency PLACEMENT.cz. What do you do? What makes you special?
We primarily deal with paid advertising on the internet (PPC). Our specialty is PPC advertising and we pass on other marketing disciplines to other industry agencies. We try to do what we can and what we enjoy 100% and of course we want to continue to improve. Therefore, we cannot focus on more fields. As we like to say, we are basically specialists in the construction of the roof, which we will build for you according to the latest trends, very well and at the same time efficiently. But we will not build the whole house for you on a turnkey basis. In this, as a company, we are basically the most different and attract certain customers accordingly.
In fact, the biggest advantage is that we have merged several tools into one, which saves us a lot of time. Among other things, we took the transition to Freelo as a restart of our processes.
I think we are exceptional in our approach and efficiency in meeting clients' goals. Since the beginning of my business, I have set it so that I am looking for long-term cooperation, I try to avoid short-term ones, and so the whole PLACEMENT.cz also works. We do not pursue hundreds of clients, we do not have an active business, but on the contrary we try to attract only those clients with our marketing with whom we sit humanly and professionally. We cooperate successfully. In short, we do not want to do work only for money, we are mainly concerned with making sense to our team and client.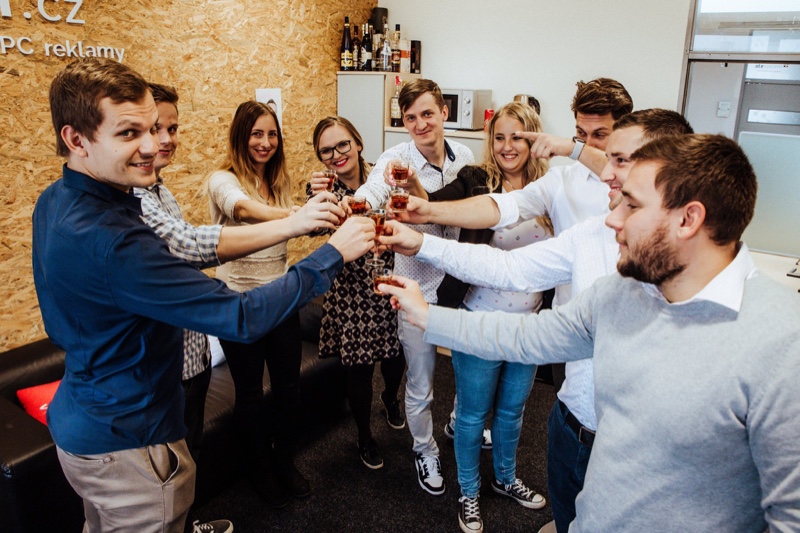 PLACEMENT.cz team at a party in the office.
You have quite resonant companies in the references. Which project are you proud of especially?
Even though we have officially been on the market as a company for a few years only, we have achieved quite a lot. I am proud of most of the projects we have or had in the past. If I should choose the best ones, I can mention for example NEJLEVNEJSISPORT.cz, Cistedrevo.cz, D-sport.cz and Manutea.cz. These are not only our key clients, but also matters of our heart.
Where do you see your agency in 5 years? What are your plans and visions?
The main plan is to keep up to date, not go crazy and enjoy the work. In particular, we want to further develop the team and grow at a natural pace, not only in number but also in quality. Clients must go hand in hand with this, so we would like to grow up, but slowly, we'd rather grow altogether.
Among other things, we definitely want to stay on top and do not become "second-rate" agency. It's important for us to remain on a list of certified agencies of company Seznam and to be a key Google partner.
Where will PPC advertising move - will artificial intelligence and algorithms replace PPC specialists? Will Google need to set credit card and website address only?
I don't think it will go that far. We will be very happy when artificial intelligence replaces the tedious and routine activities of PPC people so they will have more time for strategic planning, which will move them and especially the client. For example, we already see that it is difficult for many people to switch thinking and throw away old practices. Instead, we try to make the most of Google's artificial intelligence. It helps us save a huge amount of time and drive the advertising performance of our clients, allowing us to open up new discussions, channels, and pathways. for further effective growth.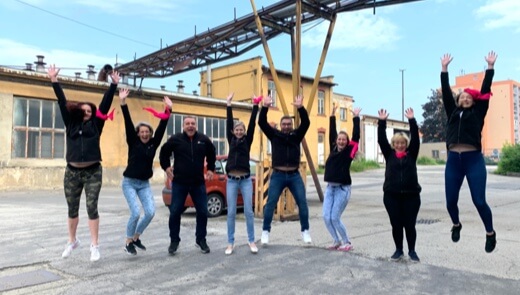 Read also
What are the common mistakes in PPC advertising or marketing in general for customers who reach you?
We think the biggest mistake is the fact that many e-shops do not have a strategy, some have a problem with calculating margins and so on. We often hear phrases like: We're really desperate, Mr. Herrmann, we've replaced three freelancers and two agencies in the last two years, but it's not working for us, we're in the financialy broken. In these cases, only PPC advertisement will not help. We have to go much deeper and we need to find out where problem lies. Many e-shops sell everything they can, blindly import products and often don't even know their margins. We like to say that what you let go to PPC advertising, it will come back to you (shit in - shit out). Today, it is simply not enough to just connect dozens of suppliers, contact PPC specialists and go in line for a Ferrari.
With Freelo it is also great that we can easily find out if it is necessary to add or remove time from the scheduled capacities. At the same time, we can invoice from one place. Previously, we had to handle invoices through three different tools.
On the other hand, unfortunately we see cases where the e-shop has everything in order internally, but the PPC is set very badly, so they spend a lot of money, for example inefficient adds. This is often because his PPCčkař does not have much time for the project or, in addition to PPC advertising, he also manages other marketing channels and thus has no chance to acquire quality know-how in all areas. After all, maintaining all the trends in PPC is not entirely easy, and once the train passes you, it is difficult to catch up.
How do you seek other opportunities and ideas for new campaigns and marketing approaches for your clients?
We do not have a unique recipe that we would apply to all our clients. First of all, it is a regular discussion, not only about the results of PPC advertising, but also across the clinet's entire project or business. We need to know the client's company as much as possible to design a new campaign. We cannot prepare it just by brainstorming with my team and come up with something for the client without any information.
It is crucial for us to constantly find out what bothers the client and what makes him happy. What he is doing well, what are his plans and where is his project bleeding. When we add data from Google Analytics and PPC, we usually manage to come up with something new that makes sense. To do this we need to know the client well and both parties must be open to each other. As I mentioned, we do not want to work on one-off projects, but focus mainly on long-term cooperation.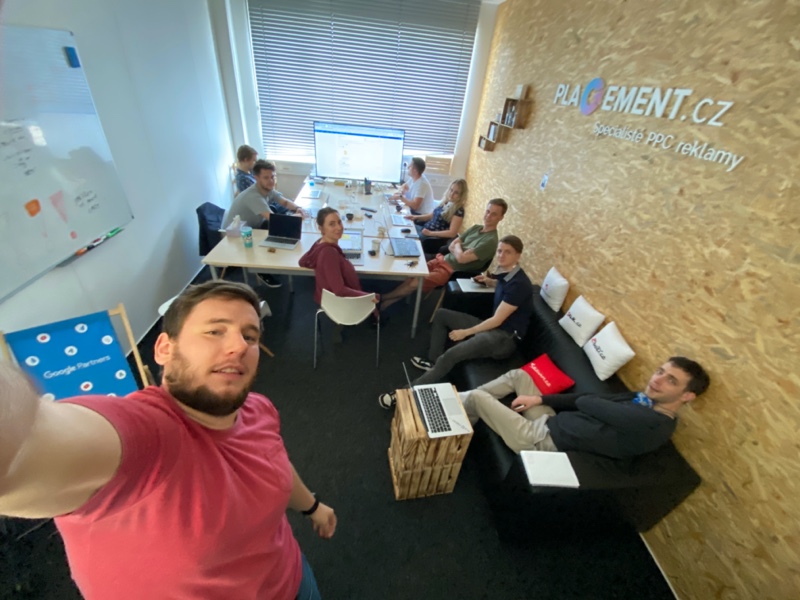 PLACEMENT.cz team at the mutual meeting.
What campaign optimization tools do you use? Do you have any internal tools or something special to work with data?
The most used tools are PPCbee.cz, Mergado.cz, Biddingmanager.cz, basically all Google tools (Analytics, Data studio), PPC robot, Analytics-importer and various scripts for alerts, but also for testing.
To do this, we have installed an internal "stacker", thanks to which we save a lot of time when creating new campaigns. Basically, in a few clicks, we can create dozens and hundreds of new campaigns that we would have to click manually in the Google Ads interface or in Sklik.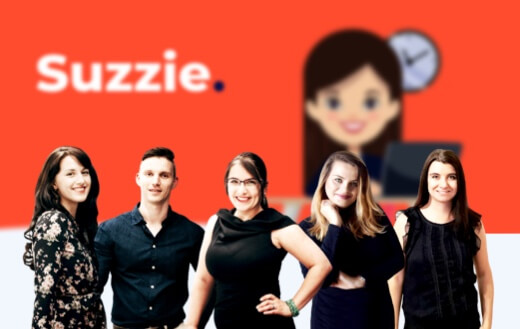 Read also
Did you take any action regarding the current situation? How did quarantine affect you and what do think about the future?
We have taken more preventive measures. We agreed with the team that we would not pay bonuses for the first quarter, we reduced some expenses for confectionery and similar things at the company. We've also suspended our own PPC ads for a while.
As for our clients, we tried to communicate more with them and be in the picture. This means that we asked how they are affected by the crisis, how it is developing and if we can help them. Online sales have generally grown, but we have several clients, such as travel agents, who have stopped overnight. For other advertisers, sales jumped so much that they also had to suspend PPC because they didn't catch up. But it was balanced by industries and clients who felt the increase in sales and managed to maintain it. For them, our work suddenly increased considerably. So fortunately the quarantine didn't hit us that much, but we preferred to take precautionary measures. After all, everything changed from day to day, and we didn't want to just wait for it to turn out.
Now seriously. Today, I can't imagine running a company without two things. And those are Freelo and financial planning.
When we realised that we can make it, we decided to help the most affected companies. However, we did not want to offer a free audit. We preferred to offer our clients help in the form of free administration for one month or reduce the invoicing amount at least. We have calculated that it will not kill us and we will help entrepreneurs to survive a difficult situation.
I can't see into the future, but I think it's clear now that a lot of things will change. Whether it's the form of meetings or financial and inventory planning. I think that the market will be cleaned up a bit. When they do well, everyone usually rides, but when a crisis comes, it turns out who really means it.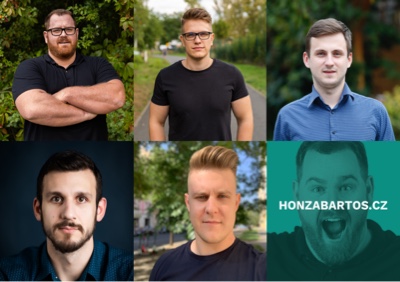 Read also
You recently implemented Freelo fully. What are the benefits of using it for your company?
The biggest advantage is that we have merged several tools into one, which saves us a lot of time. Among other things, we took the transition to Freelo as a restart of our processes. As our team gradually grew, some of the procedures and processes began to bend and everyone in the team had a slightly different system. It wasn't sustainable in the long run, so we sat down and set a few rules. So far, I think we use 50 % of Freelo, but I believe that this percentage will gradually increase. First of all, I'm very happy that we managed to move smoothly under the new tool, as they say "without losing a flower".
However, we have already learned from the past and we have created some processes for our most important tasks. For example when recruiting and training a beginner, taking over a new client, creating campaigns and optimization.
I also see a big advantage in that we can easily keep track of how well our clients' goals and scheduled project time are met during the month. So far, we've done this through a time tracking tool and Excel spreadsheet. Now we have everything in one place and pretty visually.
Me and my partner Lukas consider Freelo as great helper. Now we can easily find out if it is necessary to add or subtract time from the scheduled capacities. At the same time, we can re-invoice from one tool which is great convenience for us, because previously we had to deal with invoices through three different tools. So again, we save a lot of time that we can devote to the development of our own company.
Can you quantify how much time, stress, nerves or something similar Freelo saves you?
I can't calculate it exactly yet, it's too early for that. As far as I'm concerned, it's estimated to be about 10 hours per month in billing and reports. Among other things, Freelo saves me nerves and I have more control over efficiency. Respectively, the people in the team always have an eye on how they manage to fulfill the planned capacity on individual projects. So it doesn't just happen that someone spins several times longer than the billing time.
What does the workflow look like in your agency? How do you divide clients or projects? Do you use checklists? How do you plan your work? Please inspire other users.
The client is equal to the project. There is always someone responsible for the project. For example, Lukáš Knoflíček is responsible for D-sport.cz, even though more people in the team are working on the project. He is still the main person and watches over the fulfillment of goals, capacities and the like.
For checklists, we have worked with them in the Google sheets so far. We have a lot of checklists from the creation of PPC campaigns, through the recruitment and training of newcomers. We've now simply imported them into Freelo and set them up as templates. So we can easily add them to any project without having to go to Google Sheet all the time.
I would divide our work in two ways. The first are repeated tasks, where on a daily, weekly, monthly and quarterly basis we need to constantly monitor the performance of clients, check a lot of things both in PPC and in the client's e-shop and other tasks. We know exactly how much time we will spend on project based on this type of tasks. Then we plan them among team members. Thanks to this, it should not happen that a client is forgotten or something escapes. These regular tasks should take about 80-100 hours a month to everyone.
The other direction are one-time tasks. Whether it's creating new campaigns, promoting events, audits and lots of other steps. We can no longer accurately plan these tasks in terms of capacity. When the client comes in the middle of the month with the fact that he has, for example, an event with free transport and it was not anticipated in advance, then it is suddenly the main priority. There is a lot of such crash tasks, so people in the team have about 30-50 hours a month scheduled for them.
At the end of the month, people in our team should have 100 % of the capacity fulfilled for all clients (ideally as efficiently as possible). Of course, other factors are involved, for example, the client may increase the work or reduce it and then it is not realistic to reach 100 % of the planned capacity. So when people see that their time has increased or decreased somehow, they help each other and use the capacities of others.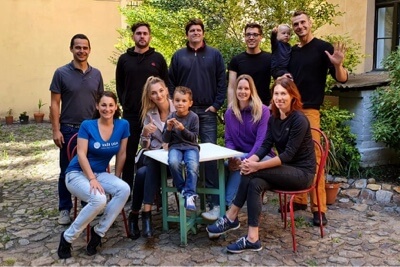 Read also
Have you defined also processes? Can you share any?
I'll be completely honest, we don't have many processes. In this way it is pretty punk 🙂 During the day we discuss together and solve everything individually. We also discuss a lot of things at regular Monday meetings with the whole team.
We've learned from the past and created some processes for the most important tasks. For example, recruiting and training, taking over a new client, creating campaigns, and optimizing. In my opinion, some processes, such as the recruitment of newcomers, are very well and detailed. We rely on the people in the team and we can afford it, because I think we have a small team.
Which tools or utilites do you need to run your company?
Without dart board 😁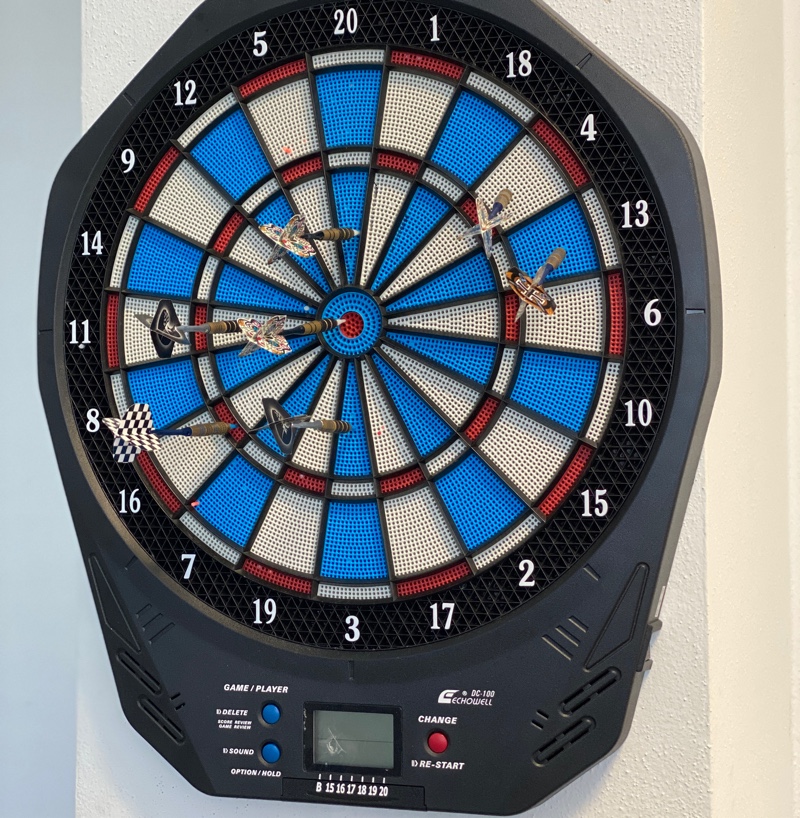 An indispensable helper for deep work.
Now seriously. Today, I can't imagine running a company without two things. Those are Freelo and financial planning. These are things we didn't have a few months ago, and we were dealing with punk. Financial planning was very important to us and even though we do not have it very sophisticated, it helps us immensely. Freelo was the second step, so that we have a simple overview of what we plan and contract.
Who influenced you the most in business and how, Jakub?
I don't have anyone specific, it's more of a number of successful entrepreneurs. I really like to read and listen to the stories of successful personalities, whether they are Czech or foreign entrepreneurs. I really enjoy finding out their stories, even the positive and negative ones. There is always something to take from them. It's a bit like a drug for me, because when I hear or read an interview with a successful entrepreneur, in which he describes his journey, it motivates me incredibly.
Finally, recommend us some websites, articles, books or podcasts that should not escape us.
My favorite books so far include:
Radical honesty,
Bad Blood: Secrets and Lies in a Silicon Valley Startup,
The Art of Winning,
Start With Why,
The End of Procrastination: How to Stop Postponing and Live a Fulfilled Life,
The Everything Store,
and now also It Doesn't Have to Be Crazy at Work.
Thanks for the interview, good luck!
Thank you too, I wish you all good health.