Introduce Authentica s.r.o. What do you do? What is special about it?
Brno's company Authentica s.r.o. has been on the market for 18 years and our main domain is complete production of POP and POS systems, in store decorations, shop window design proposals, their subsequent implementation and many other services. Our clients include names such as Hugo Boss, C&A, Nestlé and Waterdrop.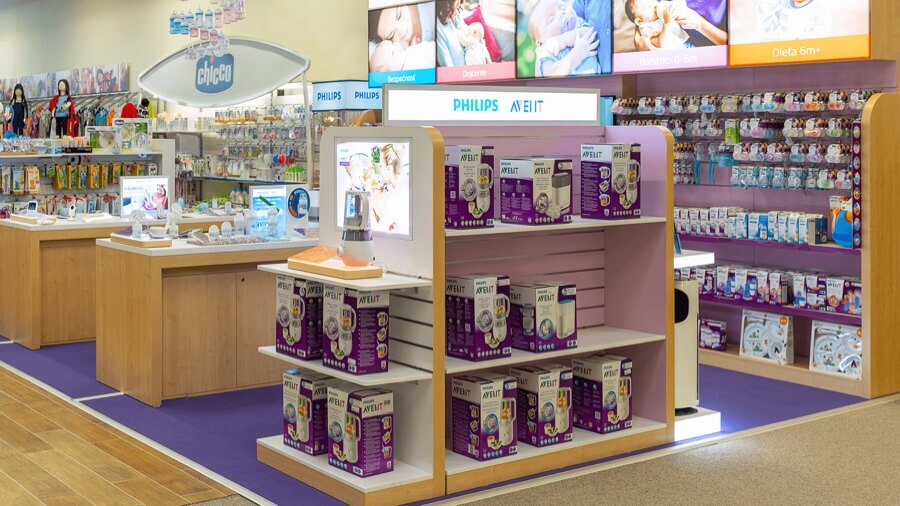 One of the realizations from Authentica company.
Currently our team consists of 220 colleagues in Brno, Prague and Roßtal, Germany, and we have been represented in Switzerland for 15 years. Our advantage is the production facility directly in Brno, our own Fulfillment center and colleagues with extensive work experience in various fields. Throughout our presence on the market, we have a wide network of proven suppliers around the world, so we can offer our clients the highest standard.
The shift to online environment has been accelerated due to coronavirus even further. In the future, we think that the trend of brick-and-mortar stores will shift more to experience. We will visit shops mostly for inspiration.
How many people is currently in your team and how do you divide your work?
So far, there are 15 people who use Freelo the most. In upcoming future we are planning to integrate other colleagues from the company. Working in Freelo allows us to move forward short-term and long-term projects. We are currently solving 4 long-term projects and the remaining 6 short-term projects. Each colleague also has own project, such as the organization of their time in the kanban board.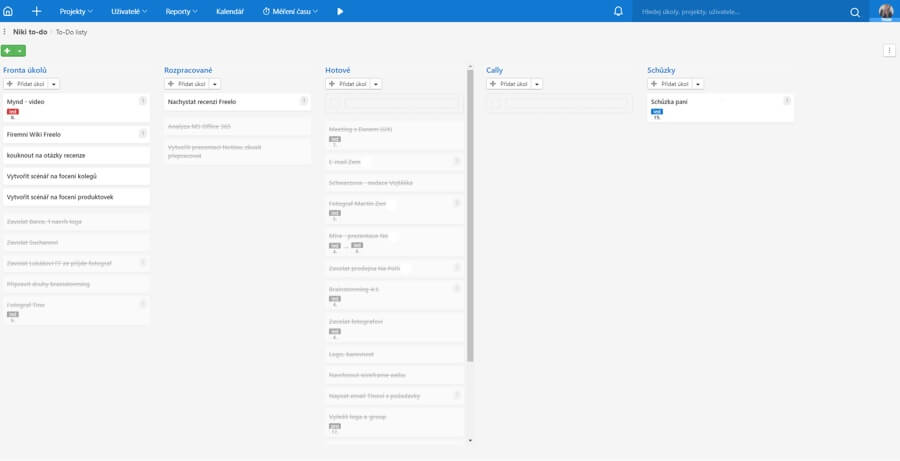 Example of a column (so-called kanban) display of a project in Freelo.
In what do you find inspiration and new ways for branding of your customers? What makes retail marketing specific and what are its risks?
In Authentica, we are lucky to have creative and experienced designers. They are not afraid of difficult assignments or unsolvable problems. Together with designers and graphic designers, they can put together a functional concept that appeals to them. With our realizations, we regularly participate in the Czech competition exhibitions Popai and the German Superstar Awards, the imaginary "Oscar awards" of retail marketing. Every prize we win is an award for our work, because we know we are doing well.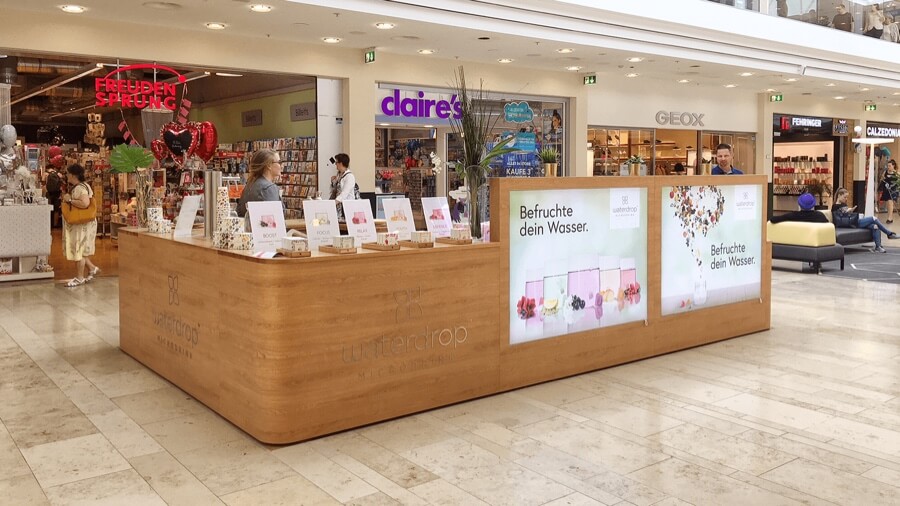 Another example of the implementation of a store in a shopping mall.
In retail marketing, it is mainly about attracting the customer attention in a few seconds. Imagine yourself walking down a busy street with lots of cars and people. Our client has a few chances, often only seconds, before a potential customer loses interest and his advertisement is unnoticed. The main risk is generally visual smog in retail marketing. Our work must stand out from the crowd somehow.
We can agree on individual tasks immediately. We are not hampered by sending e-mails, uploading attachments or personal meetings, due to simple questions.
What challenges are you awaiting in marketing in near future?
Generelly we have many challenges in the field of marketing. First of all, we plan to move the management of all projects to a clearer and digital form than has been so far. We plan to create our new websites, improve the content of the site, unify communication channels throughout the company, or deploy PPC ads for the first time. We can say that our plans are big.
Have you taken any measures in view of the current situation? How did quarantine affect you?
As I already mentioned, Authentica s.r.o. works closely with clients whose business has been greatly influenced by covid. Due to the fact that before the pandemic we focused on production of decorations, design of exhibition and retail spaces, POP and POS systems. During lockdowns our services were not as popular as in previous years in the same period. Therefore, we have started to focus on clients from online environment and we plan to go deeper into this industry in the future.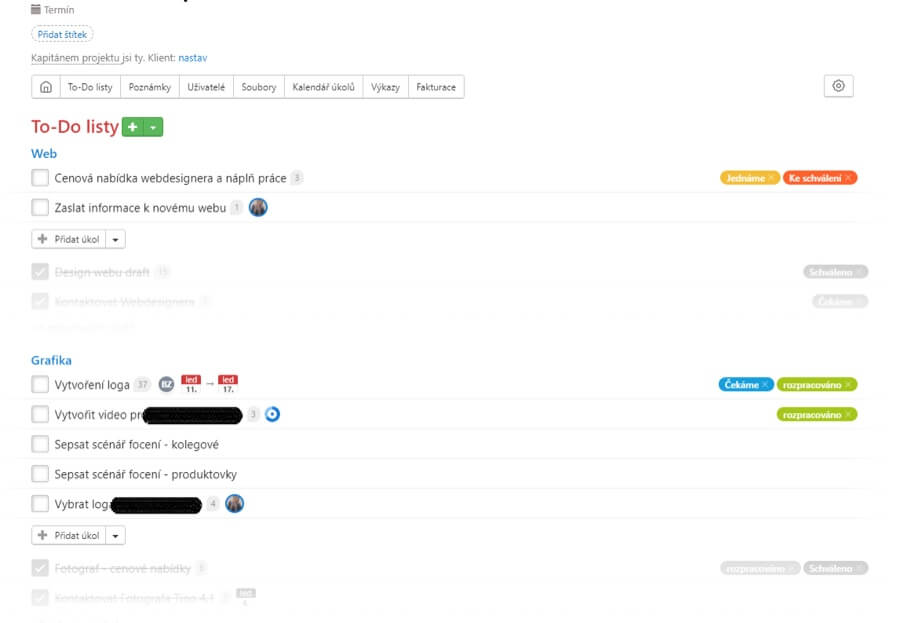 Demonstration of a running project in Freelo for a customer.
Coronavirus also accelerated some of our long-term projects, which were waiting for the right moment. Last summer, we opened our own, brand new and modern Fulfillment Center, which currently ships 15,000 orders a day. The aim was primarily to keep our employees working in production and especially in a sheltered workshop. We value our employees and we did not want to reduce the numbers at any cost.
Thanks to Freelo, our Captain and our Ship Generals have a clear overview of all assigned, ongoing and completed projects.
During the spring wave of coronavirus, our company moved to the online environment and we kept only the necessary number of people in our offices. During the spring 2020, we were involved in production and distribution of protective equipment. We started the production of protective shields for doctors, various institutions and public. We were able to help those who need it in a very short time. So far, we have produced over 500 000 protective shields. We donated 50 000 to hospitals, homes for elderly and needy pleople out there.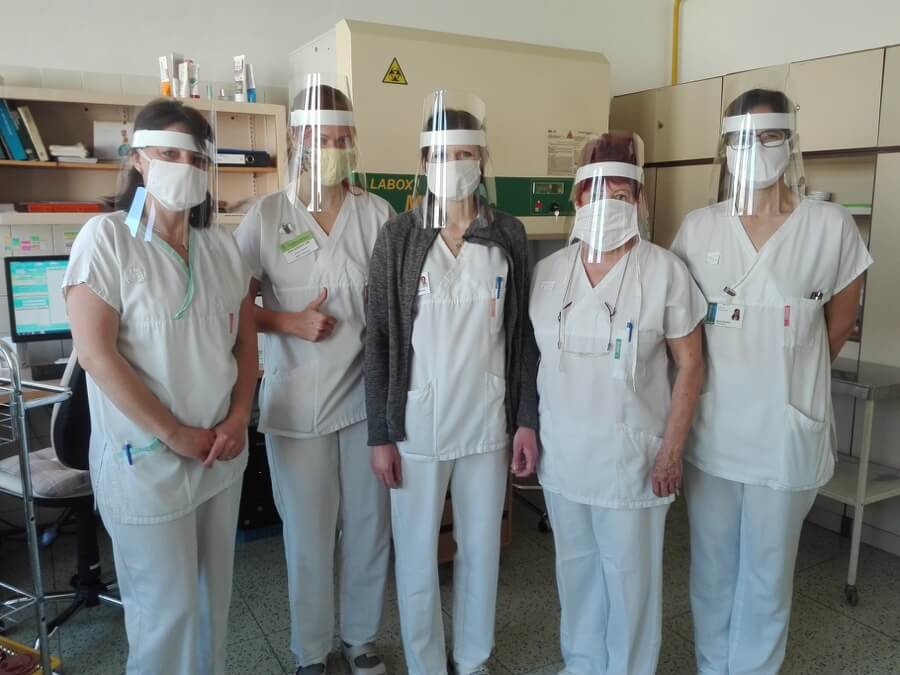 Authentica's protective shields donated to needy people.
How do you see the development in field of retail?
In the area of ​​retail marketing, we have been monitoring the move to the online environment for a long time, and the wave of coronavirus has accelerated it even more. In the future, we think the trend of brick-and-mortar stores will shift more to experience. We will visit stone shops mainly for inspiration. In general, we can say that there will be an increase in various pop up shops, ie temporary stores, where we will not only look at new goods, but also be drawn into the brand's thinking. The concept of stories will also bring a big boom, which of course already exist in our country, but the Czech customer still has to get used to them. We can compare them to a small imaginary museum of modern art, which, however, presents the main idea of ​​the brand or its latest trends.
The idea to ​​"sort our projects" brought our current captain of Freelo account, who read everything carefully from the start, seen all the workshops to find out how Freelo works and whether it will be benefit to us.
Have you started working remote? Was the transition to a home office difficult for you?
At Authentica, we have always tried to meet the needs of our colleagues, so remote work was not new for us. We have our own internal atta sys system. Our employees can connect from anywhere, even from the beach. First coronavisus outbreak, when no one knew what is coming or how big will be the pandemic' s impact, we all moved from offices to a strict home office. After 4 weeks, colleagues started to return, but the anti-coronavirus measures remained with us and are still valid. Work from home is definitely not a problem for us.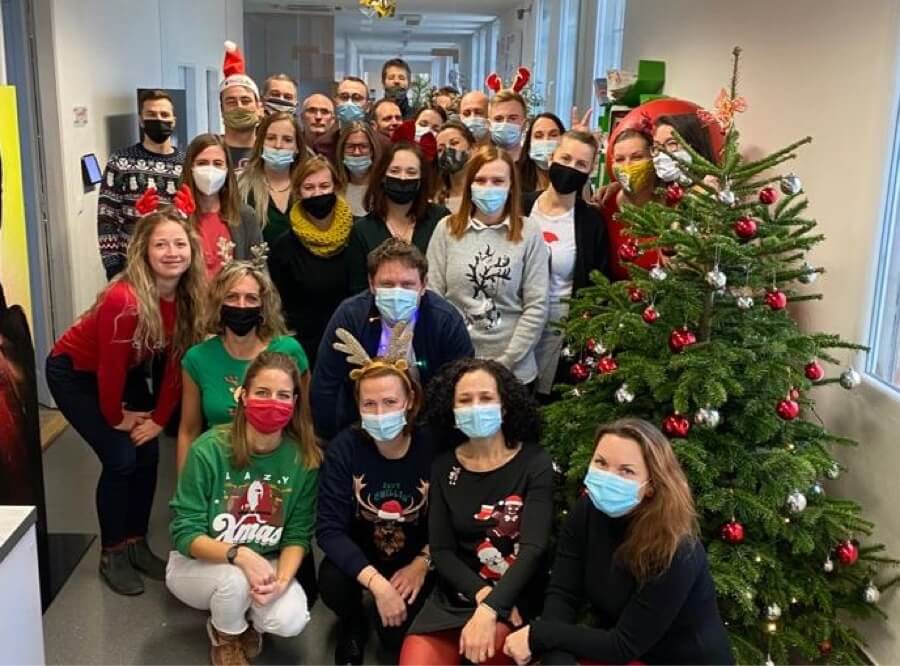 Part of the team in the run-up to Christmas 2020.
Recently you started work to the full in Freelo. What problems did you face before introducing Freelo the most?
Yes, that is just the beginning with Freelo. We already see the difference. Before Freelo, all our communication about projects was handled only by email, mobile phone and in-person consultations. The finished solutions were copied directly into our internal atta sys system. Thanks to that, minor biases sometimes occurred.
What are the benefits of using Freelo for you?
Thanks to Freelo, our Captain and Ship Generals have a clear overview of all assigned, ongoing and completed projects. We can agree on individual tasks immediately. We are not hampered by sending e-mails, uploading attachments or personal meetings, due to simple questions. We have an overview of the whole project, including attachments and timeline, so now no information is missed. Another advantage is easier and clearer cooperation with external experts, because we can lead projects with more people and we do not get stuck in e-mail communication.
Before we decided to implement Freelo, it was preceded by a thorough market research. Although we communicate with clients in English and German daily, we were looking for a simple tool for project management in Czech.
What was the main reason that you decided to implement Freelo?
We needed better overview of the activities in the entire company. We provide our clients wide range of services. Almost every order consists of several sub-activities. Thanks to Freelo, we have all of them in one place. Internal communication, simple task prioritization and also posibility to solve several subtasks at the same time within one project are just great.
How did you proceed with the introduction of Freelo (or remote work)? Has anyone or anything inspired you?
The idea to "sort projects in the company" came our current Freelo captain, who read everything carefully seen all the webinars and find out how Freelo works and whether it will be benefit to us. Thanks to this, there was no need of testing team, because the Captain and man Friday managed this activity. They signed up, set up notifications, and then just tested how add tasks, assign a user to tasks, track time. Only then they added more members of our crew.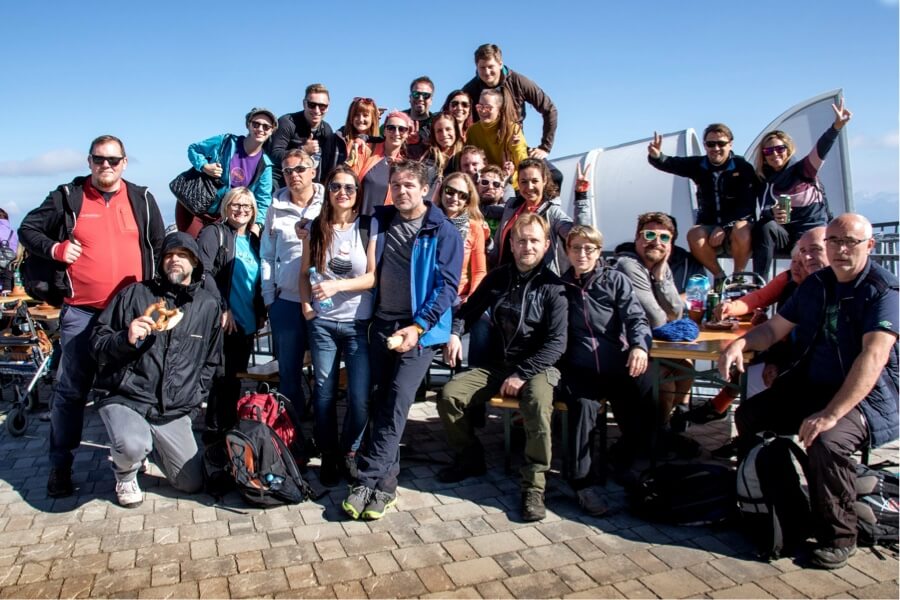 Part of the Authentica team during a trip to Austria.
Before we decided to introduce Freelo, it was preceded by a thorough market research. Although we at Authentica communicate with clients in English and German on a daily basis, we were looking for a simple tool for project management in Czech. After all, in time we will want to lead all projects online and we would like to make their management easier for everyone.
Tell us more about workflow in Authentica please. How do you divide your customers or projects? Do you use project templates? Please inspire other users.
Our tasks are divided into certain projects that we are currently solving. So far, we have used only two templates for a business meeting and also "Learn with Freelo", which guidee the new member through the basic functions of Freelo so that he can start using it fully.
As for customers/clients, we also use Raynet, which has is integrated with Freelo directly and that makes it easier for our sales team to perform the given tasks under a certain client.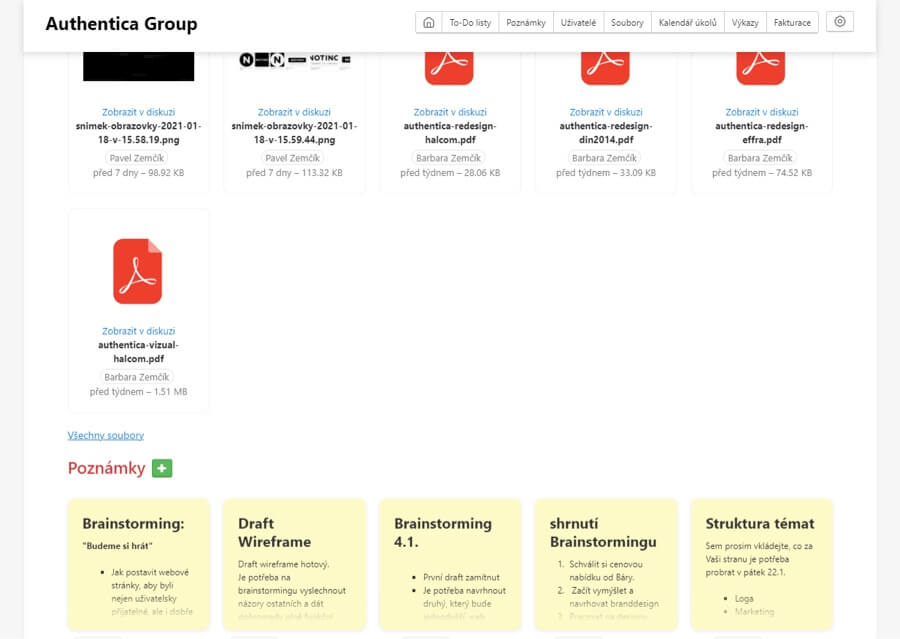 Sample client project in Freelo with files and notes.
What other tools and procedures do you have in place? What tools are used on daily basis in Authentica?
We are currently trying to combine corporate communication so that everything is clear for each employee. The most used tools besides the e-mail are Freelo, Raynet, and currently we are implementing Teams for fast internal communication.
We have made a huge change in a short time. Solving projects in Freelo is smooth and with an immediate positive response. Any searching, assigning tasks, or uploading files is intuitive, and the tutorial videos make it even easier. We look forward to involving all colleagues and selected clients, because even when solving projects is sometimes a hassle, projecting itself doesn't have to be complicated.